Auto Body Repair in Ann Arbor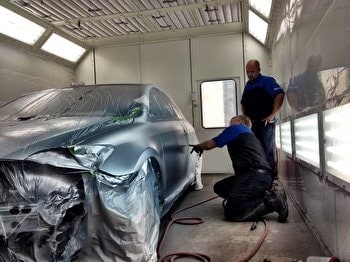 Suburban Chrysler Dodge Jeep Ram has an Ann Arbor auto body repair facility repairing
all makes and models
. Our location has the ability and necessary experience to perform premium paint and body work on all domestic and foreign vehicles using the highest quality parts. We provide collision services to Ann Arbor and the surrounding area. Customers come from Dexter, Milan, Ypsilanti, and all over to experience our expert technicians, our customer service, and our body shop in Ann Arbor.
When your vehicle suffers a collision, and you need dent repair or paint and body work, you want the best parts and most experienced body repair technicians you can find, to be able to get your car looking new again. Suburban Chrysler Dodge Jeep Ram of Ann Arbor is among a limited number of local body shop repair experts you can count on.
Is a Loaner Car Available?
Most insurance companies have a rental option as a service to you, and we can assist you in getting a rental vehicle.  In addition, for your convenience we have a shuttle service that can take you home or to work, and pick you up when your vehicle is ready. So, whether you're from Milan, Ypsilanti, Dexter, or anywhere else close to Ann Arbor, we can help you get through the process easier.
Before and After Pictures
Body Shop Experts Servicing All Makes and models of Vehicles
Suburban Chrysler Dodge Jeep Ram of Ann Arbor technicians are certified and highly trained auto body craftsmen. We specialize in all aspects of auto body and collision repair. Our services include job estimation, precision measurement, body welding, metal finishing, paint color matching and other critical tasks, necessary for best-in-class body shop repair. Our staff completes body repairs and refinishing to recognized industry and manufacturer standards. Our primary goal is to deliver premium collision center work to our customer's expectations.
Ann Arbor Body Shop Repair Process
The repair process is as follows:
Vehicle is driven / towed to our Ann Arbor collision center
Work estimation and damage assessment diagnosis
Insurance company communications
Body repair process
Computer paint match
Detailed inspection after auto body repair completion
Vehicle is cleaned and prepared for customer pick-up
Customer satisfaction follow-up
University of Michigan Staff and Student Discount
At Suburban Chrysler Jeep of Ann Arbor, we realize that Ann Arbor is a great place to live, work, and achieve a high quality education. With the amount of people on the road and limited parking, it is also an area that is high in scratches and fender benders.  Whether you have a fender bender or other any other auto accident, Suburban Chrysler Jeep offers a discounted labor rate to all U of M students, staff, and faculty.
Our shuttle service is available to give you a ride back to your local home or school. Additionally, while your vehicle is in for repairs we will do a free mini-detail. In order to qualify for the discount you must show your U of M student or faculty ID. Call us today to schedule your short appointment for a free estimate or just drive in when you have the time. We are here to serve you.
Collision Center Warranty
All work performed by the expert technicians at Suburban Chrysler Dodge Jeep Ram of Ann Arbor collision center is backed by a lifetime warranty for as long as our customer owns the vehicle. Having been in business for over 65 years, you can count on the Suburban Collection dealers to be around!  Call our service department at (734) 662-3175 to get more details.  Your car will be repaired by experienced repair specialists to the generally accepted standards in the auto body repair industry.  This warranty would correct any departure from these industry standards.
Why Choose Suburban Chrysler Auto Body Repair in Ann Arbor?
Our customers tell us it's our quality work, our warranty, and how easy we are to work with. In addition, due to our size, we can provide numerous benefits other collision shops can't.  We have a free shuttle van, pick-up and delivery service, towing assistance and are certified by most manufacturers.
Collision Repair - How Long Does it Take?
We understand that the time without your vehicle should be minimized.  Our Ann Arbor autobody repair team of professionals makes every attempt to reduce the inconvenience of being without a vehicle by giving you a solid estimate of when the vehicle will be repaired so you can make plans. We'll get your car or truck back on the road quickly. Typically, this is no more than three or four working days. Duration of course depends on the amount of damage your vehicle has sustained and work effort involved performing the body shop services.
How Can I Get my Vehicle to Your Ann Arbor Body Shop Location?
The easiest way to do this is to call our collision repair shop and will assist you with towing arrangements.  We also provide pick-up and delivery options for you.
What Other Services Are Provided?
We can help you work through some tough issues that many people haven't had experience with, such as:
Should you pay for the auto body work yourself or have the insurance company pay?
Can we assist with lease turn-in?
Can we provide estimates over the phone?
Can you match my paint color accurately?
We're happy to answer any of these question or others that you may have. Give us a call and learn how we can make your Ann Arbor auto body shop experience as quick and painless as possible.
At Suburban Chrysler Jeep Collision Center:
We will arrange towing services for your vehicle
We have onsite rental vehicles (subject to availability)
We will arrange insurance pay rentals through Enterprise
We offer a local shuttle service to get you to work or home
And we have an after-hours key drop so you can leave your vehicle on your schedule.
Our estimates are always free and we offer a guarantee on the workmanship of our repairs for as long as you own the vehicle.
We Work With Your Insurance Company
At Suburban Chrysler Jeep Collision Center, we work with all insurance companies and are a direct-repair facility with several insurance companies. Direct-repair means we can handle your claim from start to finish and that they trust us to do quality repairs. We will bring your vehicle back to the condition it was in before your accident. Insurance companies trust us because we do the job right!
When you need to make a claim, Suburban offers free estimates on any vehicle. We are a direct repair auto service center for several major insurance companies.
After you have a claim number, call us and we will handle the rest. To ensure the process goes efficiently, we will contact the insurance company and arrange for an appraiser to inspect your car. We will also coordinate your car rental or get you a ride to home or work with our local shuttle service. 
Remember: It is your right to choose where your vehicle is repaired, not the insurance company's.
Rising insurance costs have many of our customers who were involved in a minor auto accident paying out-of-pocket. At Suburban Chrysler Jeep, we will help you determine the most economical option for your auto body repair. We will listen to your concerns and answer and questions you might have about the repair process.
Call us today to schedule your short appointment for a free estimate or just drive in when you have the time. We are here to serve you and we are happy to answer any insurance questions you may have.